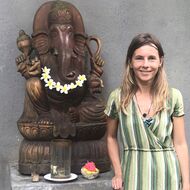 Creator of ArtUrania
January 2, 2019 · 2 min read
Jaffna: Day One
Hanuman and Nallur Kandaswamy Temples
On the first evening we visited an unusual Buddhist sight Kadurugoda which is a curious collection of different stupas amid Palmyra palms with the cremains of Buddhist monks who got enlightened. The archaeological excavations here are still on.
We also made it for the beginning of the puja in Hanuman's temple. The dragon-elephants, Hayagriva, the loudest drums, the brightness and diversity of Indian culture in general, especially the huge green Hanuman fully captivated the minds of our children. A European like fair-skinned Brahmin conducted a service with great passion. We also participated and reverently touched the sacred fire. Men must enter a Hindu temple with their torso naked while all parishioners walk in barefoot.
The main Tamil temple of Nallur boggled the imagination with its grandeur, golden radiance and abundance of decorative ornaments. Just imagine two huge unusually decorated multilevel golden towers in the Dravidian style with carved columns and sculptures of heroes of Hindu mythology, animals and birds. We really liked the sculpture of a green parrot above the gate of one of the towers. A pedestrian zone was organized near the temple and on the square nearby. They hosed down a wide road around the temple so that the believers could walk barefoot on the clean asphalt. There was a rather big rectangular pool with green water inside the temple. A lonely turtle was swimming in it. The walls were covered with the wall paintings related to Indian myths and legends but taking pictures was prohibited there unfortunately. The sacred fire was burning at the square and the music played loudly. It was Sunday and we again made it to a festive ceremony. At sunset a solemn procession with a peacock appeared from the central entrance. They also carried two spiritual Garuda birds and a sacred fire that we went around the temple with to the drumbeat. The amazing energy of Indian culture literally pressed us to join the fest so my daughter was spinning and dancing.
In the evening we saw a wonderful salute from the top of the hotel. There was a construction in front of our hotel and the builders worked overnight. I would say that the dark skin of Lanki and Tamil people harmonizes with pink and light blue t-shorts so the workers wearing pink color clothes looked rather picturesque in front of grey beams and high green palm trees.