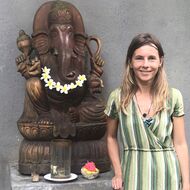 Creator of ArtUrania
January 22, 2023 · 11 min read
Forecast 2023
Rabbit and Kali Maa
To eat or not to eat?
Looking for the lost harmony
Dark side of the Moon
A furry animal has a big soul and a chequered story: deciding to sacrifice itself, it offered itself as a dinner, in gratitude for which he was raised to the Moon.
A cute animal that seems harmless and friendly has an anxious character and a winding fate, therefore, with the outwardly peaceful orientation of 2023, there is a tendency for secret collusions at the highest levels, unofficial agreements and the establishment of new orders in the shadow structures and the underworld. It has an internal conflict, coupled with multi-paths, tricky forks and undercurrents as deep and tangled as a rabbit hole. The diplomacy of 2023 is such that they can both give in and stick a knife in the back; while much is decided behind the scenes.
In March, and especially at the end of July-August and in December, an incident or a series of incidents that are the links of one chain are possible, and it will break through where it is thin. Dubious or far-fetched pretexts may be put forward to give rise to interference and aggression. High-profile assassination attempts and deaths, attempted coups d'état and purges of elites, subversive activities of fanatics, inadequate personalities, secret and underground organizations are possible. A sharp deterioration in health and the departure from the stage of the leaders of nations can affect the political climate. The tale is a lie, but there is a hint in it – some prominent "rabbit" should be caught in a cunning trap and eaten, in order to then be raised to the Moon as a hero.
2023-2024 are the last years of transition before the start of the next cycle, which will put the world on a new track.
They are characterized by disengagement, separatism, internal and underlying conflicts, anguish and rollback of globalization. The borders of countries and commonwealths can "float" and move. Since March, the bearing supports of the existing system will be washed away; years later, it must change, but at first it may lose ground and become too out of touch with reality. This leads to problems in well-coordinated functioning, a crisis and the subsequent decline of seemingly unshakable regimes that will carry out covert repressions, although outwardly they are ready to back-pedal.
Politics
Until mid-March, we are living the consequences of a difficult, devastating autumn-winter 2022. In the spring of 2023, we will see big changes, for as many as three planets change signs, taking up new positions. Spring will dispel the illusions that miraculously have survived and consolidate the clear feeling that the Rubicon has been crossed, but it will give chances to reach a compromise in conflict zones. A larger player has more chances to subdue a weaker one by asserting its claims in the 2nd half of the year. Not all participants will be satisfied with the agreements (years later they will be destined to be replayed), and the conflict runs the risk of "hanging", but will not end, therefore, it is highly likely that in 2023 there will be passive or covert resistance; guerrilla, subversive warfare and terrorist attacks will be carried out, instead of direct and military actions(!). From the end of July, in August-September 2023, an agreed partition, the partitioning of some territory or biting off a piece of the "tasty pie" may take place.
July-August is the most difficult, turning point of 2023, when a serious "wheelspin", a political or economic anguish, aggravated by procrastination or the desire to sweep it under the rug, can occur. Summer and a part of September will turn out to be spectacular, warlike and hot: all eyes will be attracted to the fate of heads of state, celebrities or ongoing rescue activities. Summer can become a time of unfair competition and scandals in royal houses, high-profile divorces with the division of property.
Spirit of the Year
2023 will give structure and shape to ideas, but will dispel too rosy plans. It is worth devoting your time to an activity that causes deep inner satisfaction, even if it is not on display or is just being prepared and shaped into something real.
The year sets us up to work on something internal, hidden, intimate or still "raw" (something like a draft), which gradually but steadily begins to crystallize and structure.
Thus, schematically outlined plans will take on more pronounced outlines.
2023 will give rise to many fears and manias, conspiracy theories and the rise of secret societies. At the same time, everything secret becomes clear: crimes or numerous abuses can be revealed and their long rabbit ears will stick out from different places.
In 2023, there is a trend towards inner life, into religion or spirituality in search of truth and lost harmony of the world. Traditional values are cherished, but the radicalism of conservative movements tends to worsen. In the best case, there will be a return to the roots as an attempt to find support in the unsteady world and form a system based on it, in the worst case, chauvinistic tendencies will be fostered, creating the ground for religious, national, racial conflict and genocide.
2023 does not tolerate a superficial, frivolous attitude and unwillingness to dive into the exploration of the depths. The year is good for creative flight and boldness, but to get strength and ideas you will have to dive deep into yourself. Relatives from afar may suddenly come to someone, or long-awaited meetings will take place. Others will branch out on their own, relocate or have a long-distance trip.
Economics
From mid-May 2023, the focus is shifting to pressing food and resource problems and energy supply. There will be a boom in industries related to resources, minerals and metals. The trend could be a return to protectionist policies; more nationalist and conservative-minded players will enter the arena.
In 2023, a general regression is expected from July, that may result in energy and food crisis, as well as raise of prices and taxes (especially on luxury goods).
In August, financial and economic problems will loudly and lingeringly sound the alarm – a long-term shortage of something, some acute economic and political problem or a stalled reform will declare itself.
An acute phase of the economic crisis is possible: the collapse of markets, the collapse of the financial bubble. Deteriorating economic conditions coupled with unpopular measures will lead to discontent, strikes and riots.
In 2023, gigantic scams, fraud like financial pyramids, including cryptocurrency and NFT, corruption and bypass schemes with insurance and pension contributions are not ruled out. Since September, the gradual collapse of the cryptocurrency market and the onset of "winter" on it until 2025 cannot be ruled out. It cannot be said that the investment climate in 2023 will be rosy; rather, the trend towards the creation of rescue bridgeheads and alternate airfields will prevail. 2023 contributes to the withdrawal and concealment of finances, the laundering of secret income. But at the same time, the risk of fraud and unfair competition increases, so abuses and corruption in power can be revealed and large compromising materials can be leaked.
Love
The year favours stable, long-term, but not necessarily official relations, with the help of which you can improve your financial situation and increase your social status; however, relationships can be tested by separation or temptations. Summer will arouse many romantic, but also illicit passions, the sad result of which can be scandals with pulling out "dirty laundry" and heart-breaking partings with the division of acquired property.
The best thing that can be done in family life is to transfer romance from the external (extra-family) to the internal (intra-family) sphere or direct it to travel, creative activity and the development of children.
The decisive role will be played by the factor of children and grandchildren: their birth, their needs and the ambitious expectations of their parents associated with them.
Health
2023 and 2024 are dangerous due to pollution on the subtle plane (subtle bodies) or on the micro level (physical body) through microplastics and other microparticles that enter the body indirectly through water, fish, medicines and even invisible radiation. Pollution at the mental level can occur through sedatives and unresolved internal problems, fears. Neuroses, chronic, latent and hard-to-diagnose diseases can come out. Some of the drugs, sedatives, painkillers, and soft drugs can be cultivated as a safe or lesser evil. They may even be legalized, creating yet another kind of addiction or indirect problem, such as the burning of patches of evergreen forest for hemp crops, for example. It is possible that a start will be made to debunk the myths regarding pharmacology and vaccination (which will become more obvious in 2025-26). Problems with bones (arthritis, rheumatism), heart (strokes, heart attacks), liver and digestion are possible, especially in summer. The result of the passions of summer can be venereal diseases and unplanned pregnancies. In 2023, it is good to get rid of toxins, bad habits, purify and fast, stabilize the psyche and inner world.
Problems
In 2023, the focus remains on the climate issues and the devastating impact on wildlife. Mysterious extinction of species, loss of forests and habitats, and ocean pollution are likely. The summer may be dry, which will affect the harvest and prices, accidents related to places of recreation are possible. In 2023, the constructions in the ocean and sea such as dams, reservoirs, coral reefs, alluvial areas and lighthouses are at risk. There is a possibility of such emergencies as floods, earthquakes, landslides (April 3-13, August 25 – September 7, October 3-18, December 29 –January 9, 2024) and droughts, fires, plane crashes, hurricanes (May 16 – July 10, July 30 – August 25). Natural disasters, especially in August, can seriously affect the financial and economic infrastructure. There is a possibility of food poisoning and food shortages, chemical attacks, battles for the railroads, terrorist attacks on trains, subways, drainage systems, sewers and accidents on the transport arteries associated with shipping.
All the Rest
The year of 2023 is able to mark a new milestone in philosophy and science (including microbiology and economics) by introducing ideas comparable in importance to the ideas of Malevich and the theories of Einstein. We can expect revolutionary discoveries regarding space and ways to explore it. A boom in the music industry and interesting archaeological finds are possible. The year favours history, archaeology, yoga, esotericism and abstract art.
Attention in 2023 will be given to wildlife, penitentiary and medical systems, as well as places of isolation of people: camps, prisons, captivity, hospitals and mental hospitals; aspects relating to the death penalty, torture, the maintenance of prisoners, captives, the sick and the mentally ill, the destitutes, migrants and refugees will be revised. It will present new opportunities to people with disabilities. However, 2023, one way or another, may deprive women of freedoms, rights, or affect in other aspects; children are at risk especially from the end of July to September.
Advise: The year will be psychologically difficult if you desperately cling to the pillars of the collapsed world and familiar reality that have gone. In 2023, we will have to build a different system of values based on flexible and movable supports, relying on our inner vision.