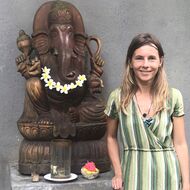 Creator of ArtUrania
January 2, 2019 · 3 min read
Jaffna: Day Three
Nagadeepa and Rio Ice Cream
In the morning we went to the nearest island which is home to Nagadeepa Purana Vihara Buddhist temple and Tamil Nagapooshani Amman Kovil temple. It was funny that we entered the island through the gates of Nagadipa and went out to another pier through the gates of a Hindu temple😀. Both temples are not far from each other. Nagadipa temple is a sacred place for Buddhists which in one of the three places in Sri Lanka that were visited by Buddha. The temple was built by the two conflicting Naga kings on the spot where Buddha settled their dispute about their claims to the precious throne during his second trip to the island. Nagadipa differs from the other Buddhist temples in Sri Lanka by numerous sculptures of snakes and cobras. Those sculptures are everywhere, be they on the gates or a part of the decoration of the walls. The most impressive sculptures were the two golden cobras and Buddha himself under a terrible multi-headed serpent.
The shaded walk along the shore leads to a Tamil temple of Shiva's wife Meenakshi and the avatar of goddess Parvati. The sculptures of elephants, sacred cows and calves welcome visitors at the entrance to the temple. The temple is beautifully painted. The stucco ornaments on the ceiling are amazing but taking photographs is forbidden. The riot of action is fascinating. The rituals of breaking coconuts and rolling on the floor with them are really unusual. To feel the contrast it is worth visiting the temples one by one😌. My son said that Buddhist and Tamil culture mostly vary in sound and color.
Our dream during the trip was to try a famous local ice cream called Rio that is made in Jaffna. In the evening of the third day of our visit we finally found an ice cream cafe near Nallur temple and our dream came true. Rio Ice Cream is really one of Jaffna's features!
Final Word
That was easy to get to Jaffna by the night train from Colombo. The trip takes you about 10 hours. The third class train carriage consists of regular sitting accommodation but everything is quite clean and even at night you can buy Sinhalese spicy pies and water. Surprisingly the 3rd class of the night train (there were no tickets for the 1st class) was even better than the 1st class of the train from Galle to Colombo. The locomotive from Galle to Colombo was smoking and wheezing ahead of carriages and the panoramic view was blocked by the rattling machine. Probably if the air conditioners had been on there would have been no need to open the windows and let the smoke get inside😆. We were sleeping all the way back from Jaffna after such an impressive and joyful trip. I closed my eyes as the train started and opened them only near Colombo.
The region is recovering after the war. Jaffna is developing and the Indian International Center is under construction in the very center of the city. While the most important southern ports of Sri Lanka are used predominantly by the Chinese the northern part of the island is under the influence of India. The tourists are very few in the north-west so you can enjoy the authentic magnificent Jaffna. The number of impressions that we had collected for those three days of staying in Jaffna was huge! We visited all the places we wanted to visit. I want to thank all our new friends from Jaffna for their hospitality and care!😃