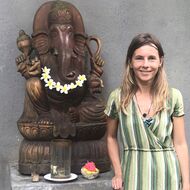 Creator of ArtUrania
February 25, 2019 · 2 min read
On March 4-28, it is better to hold off on a wedding, big-budget purchases or signing important documents. The information may easily leak while a lie can be revealed causing conflicts in personal relations and loud cases of finding prominent figures out. Some people may face intentional slander or get screwed over. On March 12-17 and March 24-28, there is a high risk of becoming an easy victim of intrigues, unfair game or fraud due to lack of awareness.
March is good for art, visiting an exhibition or going to the theater, as well as for creative work. You will have many ideas and a desire to carry them out! Meanwhile old acquaintances and friends from afar as well as old hobbies and flames may come around. At the same time bad habits and toxic people from the past may come back as well.  If you don't manage the situation on your own, look for the help of a spiritual teacher, psychologist, healer or gestalt therapy. March tunes people for compassion and the world may unite for solving a common problem. If you are able to help, do it as a gift, sincerely, and for free, or maybe even anonymously. However, if you have a "crying crocodile" next to you, look attentively and check if that one is really a "victim"?
March 4, 5, 6 are the turning point dates revealing the problems that seemed to have been long solved. Those problems give you a chance to reassess and manage a certain situation or to live it through and let it go. In the period of the growing moon on March 6-21, especially on March 13-17, you should not risk the trust of others and your reputation, or seek the truth from your bosses. On March 23-28 there is a high chance of wrong medical diagnoses and intoxication. Be careful when spending time by water, using electric appliances or dealing with financial issues.
Advice
Work diligently, taking the time to work through each idea, as if unraveling threads one by one like in a detective story. The main measure of value is to understand how reasonable and practical it is. If it is practical, don't hesitate to work well, don't get lazy and don't let chips fall where they may!