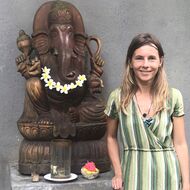 Creator of ArtUrania
October 31, 2019 · 2 min read
November 2019
Beyond The Clouds
November emphasizes the matters of feelings and financial investments allowing you to consider all the pros and cons and to re-evaluate everything once again. When being 'right then and there' you take a step backwards in time and then another step trying to guess why it all turned out that way. If it's done thoroughly you can come to quite different, interesting and important conclusions, especially around November 16-18. Such a review is very helpful to add zest to a project and to understand your clients or competitors better.
On November 9-15 with a peak on November 10-12 because of subjectivity and illusions, you may not gauge the situation correctly and that may lead to the nervousness and expenses. Watch your tongue and promises you give. Being carried away by your own speculations and persuaded by others around November 13-16 you cannot gain the profit although it was very close. While trying to solve your love or financial affairs on November 13-20 it's good to make everything clear while putting aside something that seems unreliable and obscure.
In November your plans can be switched up and be rearranged in an odd way, but whilst having relaxed, you may not notice that course of events has changed. Despite of that in the end of November you can find a new way out of exactly what you have been thinking about for so long. In November it is good to revise treatment and selected medications, analyze intimate, deeply personal problems, as well as deliberately abandon what is addictive. This month will give time for rest and withdraw from the hustle and bustle to those who have been longing for it, but there is also a risk of drinking sorrows away.
November 22-26 is a break-neck time, so it's better it's better to be especially careful while driving. At this time, even the noblest and best intentions can lead to some unexpected consequences.
Advice: Try to be objective and to look at yourself from the outside with an open mind.