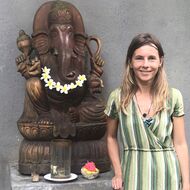 Creator of ArtUrania
May 13, 2021 · 2 min read
Jupiter in Pisces
The Secrets of Involved Ones
On May 14 Jupiter passes into the sign of Pisces and, making a loop, returns to Aquarius only on July 28th. It is a transition from open and external activity to underground and internal activity. What will be suppressed will go into a protracted phase or latent form.
Strategy: waiting, roundabout ways on the prowl. It is important to intuitively feel and anticipate the situation in order to be ready to react at any time, and while they do not touch, do not protrude once again. In other words, go underground and sit quietly, without revealing plans; join the underwater current, waiting for a favorable moment to come to the surface.
The day before the summer solstice on June 21, Jupiter goes into retrograde motion, marking a turning point: social problems will be outlined sharply and will not be resolved as hoped; in some countries, this time will be a peak in the incidence.
Jupiter in Pisces provokes a feeling of chaos, unreliability and incompleteness of the information provided. Some famous figures and events will no longer be mentioned as if vanishing into thin air: something will go to the bottom, turn to partisan resistance, disappear from the horizon. The true motivation of social movements is hidden, and the puppeteers are behind the scenes. Medical scandals are possible due to delayed, hidden side effects. The second half of July 2021 will go under the motto "look before you leap".
Worst manifestations: manipulation of public opinion and using others, false ideology, covered by the common good; sudden outbreaks of both morbidity and conflicts are likely. Ideological conflicts, humanitarian and fuel crises, shipwrecks, spy and corruption scandals, loss of trust and reputation are most likely in mid-June and in the second half of July (link to forecast).
On Jupiter in Pisces, society seeks salvation and healing, sympathizes with the oppressed and refugees, secret communities flourish and gurus inspire them.
In priority: promoting the ideas of the society or doctrine of which you are an adherent, as well as personal spiritual development. Guided by the idea of ​​goodness and help to your neighbor, you act as a conductor of the "spirit of the times" and gain support. However, let the ideas hatched for the time being be hidden by a veil of secrecy from immodest views. Be prepared to take a step on faith and fight for what you believe in.
Those who celebrate their birthday at the end of February at the beginning of the sign of Pisces, as well as those born in late January-early February 2010, in February 1998, at the end of February-March 1986, in March 1974, at the end of March-April 1962, in April-early May 1950, in mid-May-June 1938, they can join the stream: find patrons, supporters, grab an idea, or go far, far away.