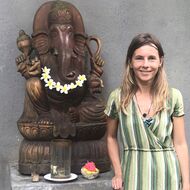 Creator of ArtUrania
May 22, 2021 · 2 min read
Saturn Retrograde
"The Ripen Fruit of Karma"
From May 23 to October 10 Saturn in Aquarius begins its first retrograde cycle and approaches again to square with Uranus in June. Their first square-clash occurred in February, at its peak Texas was covered with a snowstorm and trials of opposition representatives were held in Russia. Harsh gusts of Planetary wind blowing in June will bring us to withstand unexpected difficulties which we could however anticipate. Although, things get progressing slowly, many of us will realize that time is running out.
We will have the second chance to complete what was postponed and unfinished because one was lazy or scared. It is worthy to dig through and to get down to work thoroughly. It doesn't matter how slowly things go until you stop. There will be a turn to the past, the return of situations and people from the past. Close and around the Solar Eclipse on June 10 the fatality of encounters and events intensifies. We will need to revise and improve the things we have not got mature about yet.
The tendencies and problems that have hit the society threaten to reach a plateau and get stuck there until October; partnerships are likely to face alienation due to key disagreements. In June, an acute conflict or breakdown, even a disaster like an earthquake or a hurricane may happen. There is a probability of a cold or abnormal summer. By June the fruit of collective and individual karma will ripen which can burst out unexpectedly and painfully. There can be many tough measures and decisions, even in the struggle for freedom and progress.
In June many will feel all sorts of restrictions and melting of resources. It is better to save up money spending them only for relatively imperishable things. Summer turns us again to deal with the issues of real estate and repairs. It is recommended to restructure debts, take care of the insurance and health of elder relatives. In other words, it is worth to put things in order in the chaos of material affairs.
From the beginning of June-July the clear track will crystallize: one may expect the improvement in work and in fulfillment of plans. In the end of August and in September it is better to refrain from hasty decisions especially based on unverified information and friends' messages. One should not scatter one's attention to insignificant. Do not allow to anybody to run you off the course!