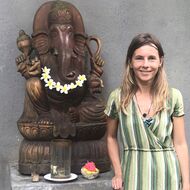 Creator of ArtUrania
April 19, 2023 · 1 min read
New Moon April 20-May 4
Total Solar Eclipse
On this New Moon we dash into the tunnel of Solar-Lunar Eclipses hoping to take a shortcut. While somewhere we move fast, somewhere we crawl, hobble and even tumble because the planetary alliance of retrograde Mercury with weakened Uranus obliges us not only to fork out and delay due to repairs, but it can also sabotage. On the eclipse, what was inevitable and outlined will happen at an unexpected moment or in a way that no one expected. At the end of April and beginning of May something will arise, stuck and build barricades, or you will need to blunt the attack and siege, and also help to solve the problem to teenage children. The eclipse focuses on the issues of earnings, physical body, nutrition and food. It is worth promising, doing or buying only what is needed, reasonable and practical without throwing too much dust into other's eyes. One can also be adventurous on one's own peril and risk. The feeling of I and Mine intertwined with hypocrisy produce the main troubles and delays, whereas giving up egoistic motives and inadequate claims will solve the issue easier and faster. The advice is to be easier to people and more honest with yourself. Days from April 27 to May 4 are not favourable to purchases, medical consultations, first dating and interviews, one can miscalculate and get unexpectedly a pig in a poke. However, what was planned a long ago, may start to be fulfilled while setting a new trend and different rules of the game.
The effects of the corridor of eclipses are felt at least a month before and after.
It is interesting to notice that Solar Eclipse on April 20 happens in the sign of Aries for the first time in a while. That means the eclipse point migrates from Taurus to Aries. Similar eclipses occurred 19 years ago on April 19 and May 5, 2004 and were marked by political events such as elimination of leaders in Chechnya and Gaza.
At its maximum phase the Eclipse Shadow will pass between Australia and Indonesia, Papua New Guinea. The regions there the eclipse could be seen are: Australia, very South/East Asia and Antarctica.